Indoor Car Storage in Dubai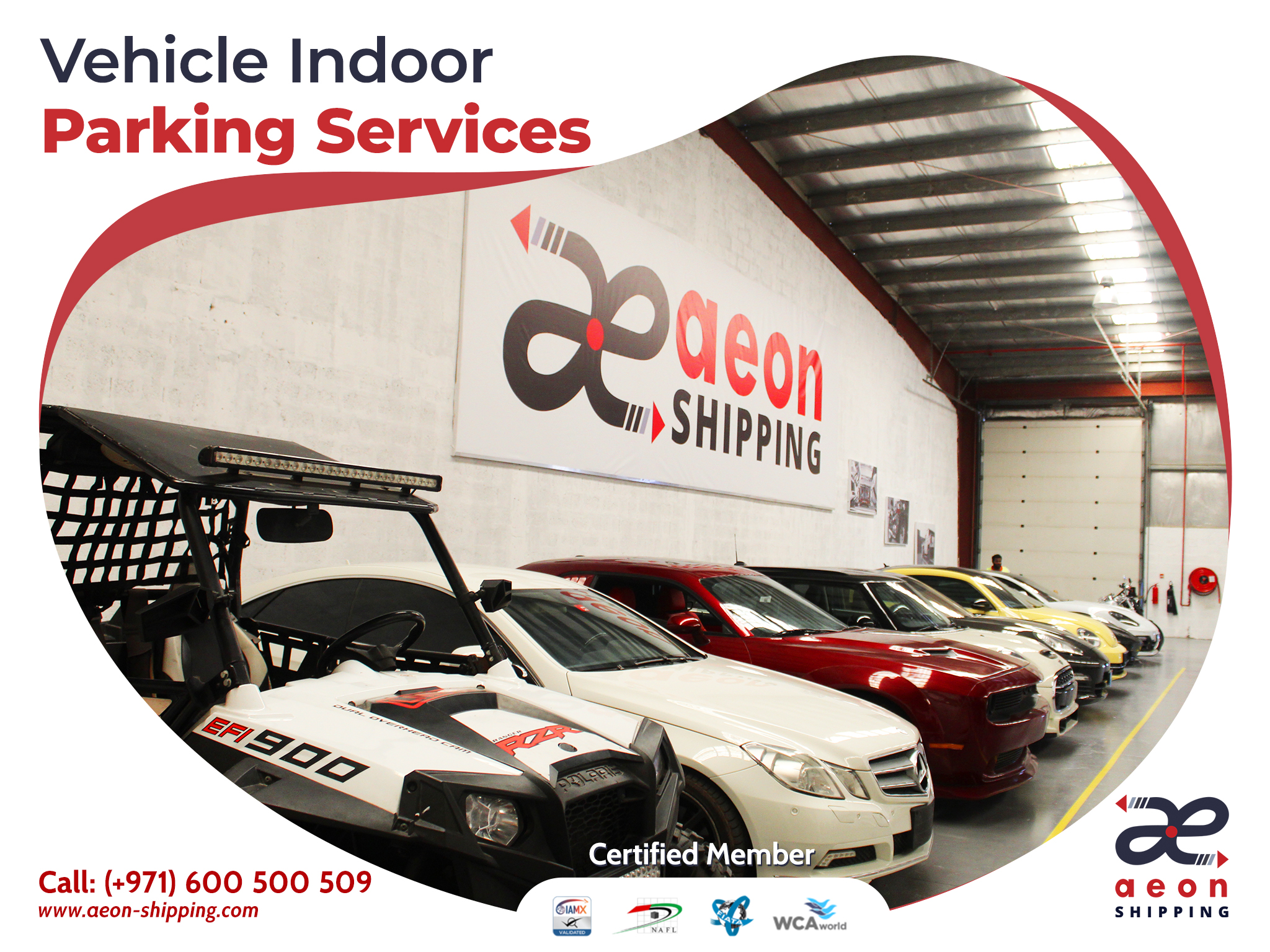 Do you need a safe warehouse to temporarily store your car in Dubai?
Luxury Indoor Car Storage in Dubai
Aeon MySpace offers temperature-controlled indoor car storage in Dubai at an affordable rate for the best services in Dubai, UAE. They have been trusted and in business for over a decade, providing car storage and shipping services from Dubai. They offer a 25,000-square feet storage space, a warehouse in the Dubai Investment Park.
Contact AEON and get more details and an offer on storage services in Dubai.
There are services that can accommodate your automobile, whether you're moving to a new location or visiting another country for several days.
AEON car storage rental space allows you to hire a specific, dedicated spot and store your vehicle there for a specified amount of time at an affordable rate. Their 24-hour CCTV surveillance and fully secured warehouse offer you peace of mind that your car is secure and dust-free, and their temperature-controlled facility ensures that your precious vehicle will remain in pristine condition whilst in storage in Dubai.
Rent an Indoor Car Storage in Dubai
Here are suggestions for the top car storage rentals in Dubai if you're looking to hire a space.
Companies that store cars typically charge based on the kind of vehicle you are leaving with them. These may include "standard automobiles," which are your regular cars that don't fall within the SUV, truck, or trailer classifications.
Companies also charge differently for SUVs and expensive vehicles. The typical monthly costs to store an automobile in a storage facility are shown in the table below.
How much do you need to pay for indoor car storage in Dubai?
| | |
| --- | --- |
| Car Storage package | Cost / Week |
| Standard | AED 140 |
| Platinum | AED 400 |
| Premium  | AED 600 |
You can view car storage in Dubai prices here
Best Car Storage Rental Space in Dubai
Do you require a location to temporarily store your car? They offer services that can accommodate your automobile, whether you're moving to a new location or visiting another country. Car Storage Rentals in Dubai
Facilities provided by car storage facilities in Dubai
Are the storage areas big enough? Also, take a look at the quality of these spaces.
Variety: Here, they look at the sizes and varieties of storage containers on the market. The more options, the better, because they can manage a wider range of automobiles.
Flexibility: How frequently are you able to visit or use your car? Can the business offer various rental terms, such as short-term and long-term?
Customer Support: They will look into how the staff interacts with and helps their clients in this regard.
How Can A Car Storage Unit In Dubai Protect Your Expensive Vehicle?
Enhanced Security at Car Storage Dubai
When considering long-term storage for expensive vehicles, security should be your main priority. A luxury car storage facility will give the following security measures priority, even if self-storage services normally have minimal security features:
Routine Maintenance for Indoor Car Storage in Dubai
Are you considering renting a storage unit in Dubai to store your personal belongings as well as your car?
Aeon Myspace can offer you the best rate for storage services.
The storage facility's automotive specialists will assist you in keeping your car well looked after with regular detailing, clear bras, personalized vinyl wraps, ceramic coatings, etc. This is necessary to keep your car in the best possible technical and visual condition.
It's also crucial to protect your car from dust and rust, which can build up if you don't pay for the right preventative maintenance during long-term storage. At any effective car storage facility in Dubai, routine maintenance tasks may include the following:
Tire life extension by regular vehicle activity on an indoor circuit
Examining tires and adding air as necessary
Adding fluids and oil to the top
Normal engine operation
Routine polishing and cleaning
Battery system upkeep
24-hour protection
Specifically built with cutting-edge CCTV for round-the-clock video surveillance
Charging a battery
Monthly Car Parking in Dubai
You may feel secure knowing that your automobile is stored safely and securely until you need it again.
Car Storage in Dubai
Knowing that your automobile will always be prepared to go whenever you need it will allow you to sleep soundly. Battery conditioners are incorporated into their spotless car storage areas for trickle battery charging.
Indoor Car Storage Units
For your car, indoor car storage options create the ideal garage away from home. Store your vintage car, small truck, compact car, and other vehicles in their indoor vehicle storage units. These spacious storage units are ideal for long-term parking and help keep your car from rain, long-term sun exposure, and snow, letting you breathe knowing your car is kept with care.
Outdoor Car Storage
Better than any regular parking lot, you can keep your car in their outdoor parking lot with the peace of mind of knowing their facilities have features like an around-the-clock recording. With their flexible access hours, you'll be able to access your car almost any time of day.
Covered Car Storage
If you want a little more coverage outdoors, consider the covered parking storage spots. These parking spots are great if you're looking to protect your car from rain or sun exposure without having to get an indoor storage unit. For many automotive storage purposes, covered parking spaces provide a flexible alternative.
Car Storage in Dubai
Their spaciously designed and constructed storage room is a component of the world's largest car care facility, which is conveniently located in the heart of Dubai. Your vehicle receives unmatched care thanks to a committed team of experts. AEON Myspace believes in providing their customers with a single plan that includes coverage for all aspects of car storage for both you and your vehicle. Since our location is in Dubai, it is convenient for most people to visit without having to make a long drive. They also offer car pick-up and drop-off services within the UAE.