Self Storage Units in Dubai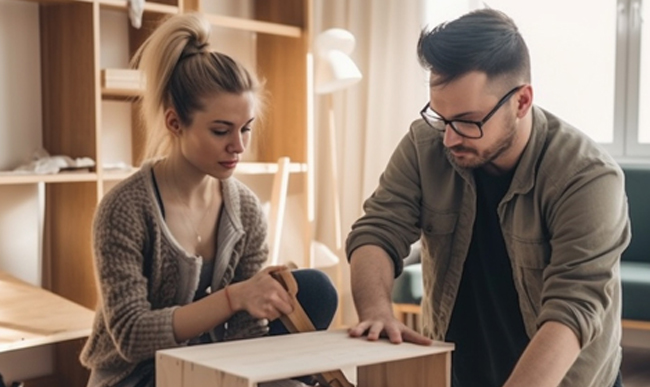 Make a booking at AEON MySpace for Self Storage Units in Dubai to move your household goods with us.
Packing, Moving, and Self Storage Services in Dubai
Warehouse in Dubai
Commercial goods are under constant surveillance.
Quick and reliable response
Customer support 24×7 customer support
Highly qualified technicians
Cost-effective solutions
Some of the reasons to choose a moving company in Dubai are:
Organizing and packaging
Centralized Location
Pickup and drop off
CCTV Monitored
Temperature Controlled
Disinfection and Hygiene Routine
Renting from AEON MySpace has additional benefits over other self-storage rental unit companies in Dubai.
Your personal belongings are kept private and secured.
The company hand over the keys when you rent a single unit from us, and you are required to choose a second person who will also have access to the unit.
24-Hour Monitoring in Our Dubai Warehouse Storage
The warehouse is well-secured because CCTV is being watched around the clock. In addition, security personnel are always on duty at all of our locations. But until you or the person you've authorized arrives, the storage containers are kept locked.
Insurance for your personal goods
The insurance package that comes with renting from Self Storage UAE also includes coverage for incidents. Please contact us for information.
The seamless and stress-free procedure
If your business requires cost-effective security options for personal storage in the UAE, AEON MySpace Storage in Dubai is the solution. Feel free and you can get in contact with us via toll-free phone, email, WhatsApp, or live chat if you have any additional queries.
Office Furniture Storage in Dubai
A cost-effective solution for storing office supplies and equipment is a self-storage unit in Dubai. It is also very helpful because there are many self-storage companies in the UAE that provide services for commercial and corporate storage. Moreover, office space can be saved while expanding your business.
Document storage in Dubai
Businesses are growing swiftly, which has led to enormous amounts of data, paperwork, inventory, and technology. But due to the government's record-retention laws for tax purposes, document storage is a major issue for enterprises. Given the rising cost of real estate, offices must utilize their existing space effectively. However, even with all the readily available tools and software for data storage, paper records are still an essential part of enterprises.
Not to add that companies need a place to keep their goods that is within their budget and is also reasonable. What takes place when offices are being renovated or are briefly closed? But a lot of situations are improved by the use of storage containers.
How many times would remote document storage be advantageous for businesses?
To conserve space, organize your documents.
Documents are normally kept on paper by businesses for a minimum of five years. Some people could keep them for the entire time the business is in business. But it's challenging to handle all that paper and data. In addition to the need for manual file sorting, keeping these documents on-site consumes a sizable amount of valuable office space. It could be advantageous to work with a self-storage company in Dubai.
Businesses can store sensitive papers like tax returns and employment information in many self-storage facilities for a reasonable price. To be sure that the storage facility you select is the greatest one for your company, though. It is essential to have excellent security and effective safety precautions. The records need to be protected from loss and decay. Only after careful consideration of the long term and research should a storage facility be selected. AEON MySpace can help you with matters and provide you with ample space at your work place and less clutter.
Short-term storage
It is best to choose a facility that offers a variety of unit sizes because various businesses have varied demands. You are free to choose the unit sizes that most closely match your needs. After that, you can arrange all of your office supplies, furniture, computers, and other equipment.
You can choose to purchase a unit to store the excess stock and production machinery of your business. Extra materials and samples can also be put in the self-storage unit to free up the workspace.
Our household storage facility in Dubai offers storage services if you need to store your stuff as a result of a circumstance. Door-to-door service is provided by hiring Dubai's packers and movers for relocating. You will be made aware of the obligation when your new home is delayed and you must leave your current residence.
Are you relocating to a different location?
For the purpose of ensuring our customers' delight, our domestic storage services in Dubai have rigorous requirements. By providing you with a friendly, superior, and competent self-storage service in Dubai, rehousing domestic self-storage in Dubai often distinguishes itself from other storage firms. Our fundamental policy at the Dubai warehouse company is to help you with competent, affordable employees. Your items can be arranged, sorted and transported via AEON Shipping to make your move a smooth one. You can concentrate on your business and let us handle your moving process.
Get convenient, on-demand access to dependable household storage space right away for you.
The best house movers in Dubai
To ensure our customers' delight, our domestic storage services in Dubai have rigorous standards. Rehousing Household Self-Storage Dubai strives to be a step above other storage firms by providing you with friendly, excellent, and competent self-storage service in Dubai. Our first goal at our Dubai warehouse company is to send you knowledgeable, reasonably priced personnel.